A & A Enterprises provides industry-leading zinc electroplatingboth rack and barrel plating for outstanding corrosion resistance. We offer both types of zinc plating processes; an alkaline zinc process and an acid zinc process so that we can meet our customer's needs.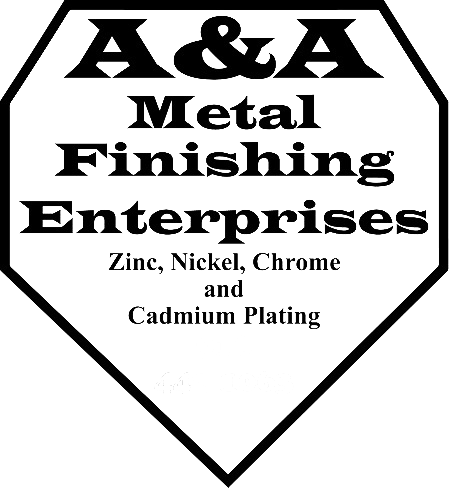 We offer both ROHS compliant, and traditional hexavalent type chromates depending on our customers' needs. Colors available on request are clear, yellow, black, and up to 200 hours of salt spray is possible depending on the color choice.
A & A Enterprises is a leader in zinc electroplating. Our processes are efficient, cost-effective, and of the highest quality. To learn more, contact us.
Zinc electroplating is a relatively soft, ductile, corrosion-resistant, and inexpensive protective finish for iron, steel parts, brass, or copper material. It is commonly used in a range of hardware components, including fasteners, stampings, wire formed products, castings, and sheet metal parts.
Zinc oxide is a fine white dust that, unlike iron oxide, does not break down the substrate's surface integrity as it is formed. Zinc plating forms a sacrificial barrier around the substrate – it corrodes first, thereby protecting the metal underneath. Protection is typically measured in salt spray performance.
An additional chromate coating is applied over the zinc for additional corrosion protection. This chromate coating can vary in color among clear, yellow, and black, meaning different visual appearances can be achieved and conforms to Military Spec B633 Type II and Type III. B633 Type I does not require a chromate coating.
Zinc – Clear, Yellow and Black
Bright Nickel
Nickel Chrome
Cadmium – Clear and Yellow
Baking